Frequently Asked Questions
CBD stands for cannabidiol, a compound extracted from cannabis plants, and the main compound found in the hemp plant. Unlike THC within marijuana plants, CBD is not psychoactive, so it does not change a person's state of mind when they use it..
No, CBD and marijuana come from different plants. They do, however, come from the same species of cannabis plant. There are three recognized species of cannabis plants—Cannabis sativa, Cannabis indica and Cannabis ruderalis. Both CBD and marijuana are derived from the Cannabis sativa species. While CBD and marijuana both come from the same species of the cannabis plant, they are derived from different species of Cannabis sativa. CBD is derived from hemp, while marijuana is derived from the marijuana species.
CBD products must contain less than 0.3% THC to be legal according to Federal Law.
Find answers to more of our questions on our FAQs page.
What Are The Health Benefits of CBD? CBD is undoubtedly the hottest healthcare and wellness...
Read more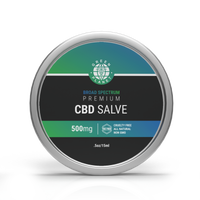 Extra Strength Pain Relief Salve 500Mg CBD 0.5 Oz.
$40.00